It's That Time Again…Join Us in Celebrating all Things Kinky at The Spring Sinical Ball 2019!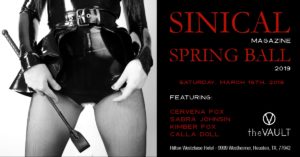 Mark your calendars and buy your tickets, this event is not to be missed! Join Us on Saturday March 16th, 2019 for The Spring Sinical Ball!
The Vault will be hosting ' A True BDSM Experience ', which is free to all attendees.
We will have a playroom set up where We will be taunting, teasing and using Our subjects for the amusement of all! Bring your slave to join in the fun!
Visit Sinical Magazine to purchase tickets and for more information.