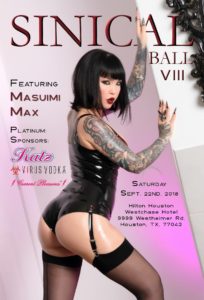 Join us in celebrating Sinical Magazine's 8th Anniversary!
Come out and see us in action! The Ladies of The Vault will be hosting the VIP Dungeon Play area and also the after play party for The Sinical Ball on Saturday September 22, 2018.
Have you been toying around with the idea of being one of OUR toys..??  This is your chance to meet us in person and to watch us have our fun.  If you are really lucky maybe one of us will have some fun with you!
Tickets are available here