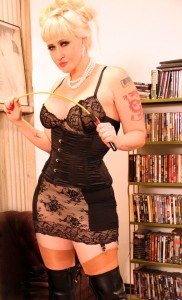 Julie Simone will be accepting sessions in Houston Tx at The Vault.  She has been in the scene for 15 years, working as a Pro-Domme for 8.  She's taught rope bondage classes at ShibariCon, DomCon (LA, Atlanta), BondCon, FetishCon, Xanadu, German Fetish Ball and more.
Specialties include :
Ball busting
Inescapable Bondage (Western and Japanese style)
Fingernail torture
Smoking Fetish
Trampling
Sensory Deprivation
Breath Play
Tease and Denial
OTK Spanking
Corporal Punishment
Orgasm Control
Boot Worship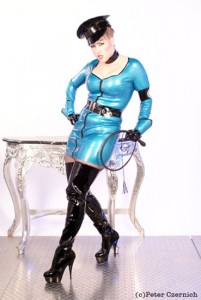 Latex Worship
Heavy Rubber
Foot/Leg Worship
**No sex, no fluid transfers or showers of any kind, do NOT ask**
She was recently inducted into the AVN Hall of Fame for her work as a Fetish Director and Performer.  She graced the cover of "Old Nick" magazine last year and has been published in  Leg Show Magazine, Leg World Magazine, Bizarre, Nugget, Knave (UK), Secret (Belgium), Bondage & Fetish (France), Schlagzeilen (Germany), "Legs" -Dave Naz, "Bad Girls Hotel" – Bob Coulter, "Shibari" – Master K, Marquis Magazine.  She was the first woman to be awarded Best Rigger in 2004 and has starred in over 300 DVDs in addition to the ones she's directed for her own company, Julie Simone Productions which have garnered AVN award nominations and screenings at film festivals around the US and in Europe. She's also appeared on G4TV's "Attack of the Show" and Playboy TV. A Youtube clip featuring Ms Simone went viral and was featured on Tosh.0, Gawker, VH1, and several other blogs.
Her style ranges from sensual to strict, limits will be respected.Julie only smokes in session by request/if it is a part of the scene. Otherwise the dungeon & Julie will be smoke-free.
5'9″ bare foot, 6'3″ in heels, fair skin w/freckles, blonde hair, light blue eyes.
See Julie in action on these websites :
http://www.clips4sale.com/studio/9861
http://www.JulieSimone.com
Many of your questions will be answered on My Frequently Asked Questions (FAQ) page :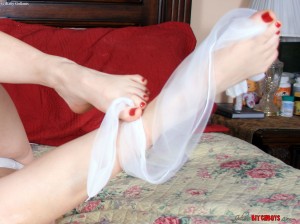 http://juliesbitchboys.com/blog/f-a-q/
For additional questions you may email Me at  : JulieSimone7@gmail.com 
To book call 347-921-0988
Serious Inquiries only, please. Blocked numbers will not be answered, no exceptions.
Do not book sessions you have no intention of keeping. If you flake once, you will not be re-booked.
Keep in mind as an independent Domme I am in no way obligated to see you. I am very selective with who I see based on compatibility of O/our interests. The way you speak to Me is very important. While you do not have to address Me as "Mistress" on the phone, it is not acceptable for you to be inappropriately informal and use such words as "baby", "honey" and the like. Failure to speak in a non aggressive, respectful manner will result in you not being scheduled for an appointment.
Accepting calls 11a-7pm, Monday-Saturday. Julie does not session on Sundays.
Rates :
$250/hr, $400/2 hrs. No same day appointments.